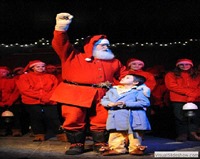 Local Polar Express events, inspired by the beloved holiday classic from Chris Van Allsburg, offer a magical experience for the entire family.  A train ride, hot chocolate, cookies, stories, and of course a visit from Santa, these local events have it all!  There are quite a few options, offering different levels of authenticity, and varying ticket prices, in the area.  Tickets are on sale now, so don't delay, seats fill up fast! 
All info and event descriptions were found on individual websites.  Click on the titles below to visit the website for more information and to order tickets.
The Train to Christmas Town 
Cape Cod Central Railroad, Buzzards Bay MA
November 22nd, 5:30pm & 7:30pm
This holiday season, fall in love with the heartwarming tale of Janice, a little girl who looks forward to riding the Train to Christmas Town every year with her brother and Grandmother. This year is a little different though, as readers of the story already know. Accompanied by a bag full of surprises, woodland friends and jolly elves, Janice relives happy memories as she rides the train to Christmas Town once again.
The conductor will welcome you aboard and punch your ticket as you find your seat in warm, decorated cars. Meet Bumblebee the Polar Bear, Wabash the Squirrel, even Zephyr the depot cat and laugh along with Elves while they're busy serving cookies and cocoa, and leading guests in singing Christmas carols. Upon arrival at Christmas Town, Santa climbs on board and walks through the cars greeting each child with holiday cheer and his signature "Ho, Ho, Ho"!
The Polar Express 
Edaville Railroad, Carver MA
November 22, 23, 24 & 27
December 1, 5, 6, 8, 12, 13, 15, 18, 19, 20, 22, 23, 24, 26, 27 & 28
Trains at 5:30, 6:30, and 7:30 pm Weekdays
Trains at 4:30, 5:30, and 6:30 pm Weekends
Inspired by Chris Van Allsburg's beloved children's book, The Polar Express comes to life at Edaville this Christmas!  Take a magical ride to the North Pole where Santa will board the train, greet each child, and hand them their own first gift of Christmas.  Hot chocolate and cookies will be served on the train by costumed staff while pajama-clad guests enjoy a live reading and carols – all on an authentic steam train.  Polar Express passengers are welcome to enjoy the Christmas Festival for the full day of their train ride (4-9 pm on weekdays and 2-9 pm on weekends). Advance reservations are strongly recommended for this 40-minute adventure.
Scituate Polar Express
Greenbush Commuter Rail Station, Scituate MA
December 7, 2013
4 departure times:  11am, 1pm, 4pm, 6pm
On Saturday, December 7th, 2013 the spirit of the holiday will descend upon the quaint village of Scituate, MA as children embark on a magical train ride to the North Pole. This 60-90 minute train ride departing from the Greenbush Commuter Rail Station to the North Pole will delight children and adults alike.   Children will be entertained with the reading of this classic story of "The Polar Express", have milk and cookies, sing Christmas carols, and be visited by Santa's Elves, Frosty, Rudolph, and the big man in red, Santa, and Mrs. Claus. Children are encouraged to wear their pajamas to get into the spirit of the event.  Each child will receive a special gift from Santa and most importantly the "magical" silver bell.
A Christmas Journey
The Ecotarium, Worcester MA
December 7, 8 & 14
12:30, 1:30, 2:30 & 3:30pm
Experience the magic of this seasonal journey as Mrs. Claus reads Chris Van Allsburg's classic holiday story, The Polar Express. The story then comes alive as each child receives a bell to ring while walking to the train station, accompanied by the Conductor and Santa's Elves. Everyone boards the Explorer Express Train for a wintry ride around the EcoTarium's grounds. The December air feels festive and joyful as the children ring their bells along the route!  After traveling the grounds, you'll head back indoors to warm up with hot cocoa and cookies — and, at the end of your journey — enjoy a special visit with Santa Claus.  Each child will have an opportunity to meet Santa. Be sure to bring your camera to capture that special moment!  Each child also receives a bell to bring home as an ornament, continuing the magic throughout the holiday season.
Blackstone Valley Polar Express
Woonsocket, RI
November 24, 29, 30
December 1, 6, 8, 13, 14, 15, 20, 21, 22
Departures on Fridays at 4pm & 7pm
Departures on Saturdays at 1pm, 4pm and 7pm
Departures on Sundays at 1pm & 4pm
Take a 90 minute train ride inspired by The Polar Express by Chris Van Allsburg!  Let the Door Man greet you and meet Frosty, Rudolph, the Engineer, and Conductor.  Santa Claus appears, spreading joy and merriment. Every youngster receives a coloring book and crayons, free photo with Santa, and a very special gift, presented personally by Santa to each and every child.  A jolly holiday sing-a-long carries us back to the Polar Express Station to be greeted by favorite characters ready to pose with your children for snap shots. Unique toys and gifts are set up in Santa's Shop.
NH Polar Express
North Conway, NH:  Nov 29-Dec 1, Dec 6-8, Dec 12-15, Dec 20-22
Lincoln, NH:  Nov 29 & 30, Dec 1, Dec 6 & 7, Dec 8, Dec 13-15, Dec 20 & 21, Dec 22
The original Polar Express Event.  With exclusive treats and gifts, your two hour holiday journey will include a train ride to the North Pole, an enchanting walk to the North Pole Theater, where the little boy in Chris Van Allsburg's story has grown old, and will read the Polar Express book to explain his journey when he was young.  There is no experience quite like seeing the children's excitement when Santa arrives at the theater.
Polar Express
Kingston MBTA Station, Kingston MA
December 14, 2013
11:45 am, 1:45 pm, 4:00 pm & 7:15 pm
Get your tickets now for the South Shore Polar Express! Sponsored by the Rotary Club of Plymouth, this fun and exciting train ride features a reading of the "Polar Express" by Chris Van Allsburg with Chefs serving hot chocolate, Elves distributing gift bags for each child and a special visit from Santa. Kids are encouraged to wear their jammies over their clothes to celebrate this wonderful and warm-hearted story experience!
* Photo credit to http://www.polarexpress.org/