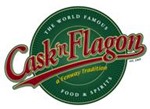 Dana Van Fleet, owner of the Cask 'n Flagon today announced today the "Eat Your Heart Out: Boston Strong" fundraising campaign for victims of the Boston Marathon Bombing. From Friday, April 19 – Sunday, April 28 at both the Fenway and Marshfield locations, 100% of sales from the specialty 'Patriot Pizza' will be donated directly to One Fund, the central fundraising channel set up by Boston Mayor Thomas Menino and Massachusetts Governor Deval Patrick. 
"All of us at the Cask love the city of Boston, its people, and our friends who were visiting our city on Patriots Day," said Dana Van Fleet, co-owner of the Cask 'n Flagon.  "We want to do whatever we can to help during this time."
'Patriot Pizza', priced at $12.50, is a specialty creation from Head Chef Donley Liburd featuring a white sauce with spinach, fresh mozzarella, and grilled basil pesto chicken.  The pizza can be ordered at any time during Cask 'n Flagon operating hours. All proceeds will be donated to One Fund on Monday April 29th.
Cask 'n Flagon Locations:
Fenway
62 Brookline Avenue Boston, MA
(617) 536-4840
Marshfield
804 Plain Street Marshfield, MA
(781) 834-CASK
---
About the Cask 'n Flagon:
The world famous Cask 'n Flagon began as a small neighborhood bar known as Oliver's in 1969. What was once known as the little bar on the corner of Brookline Avenue is now a landmark location for diehard Red Sox fans, sports enthusiast, college students, locals and tourists. Many have said that the Cask 'n Flagon is as synonymous to Fenway Park as the infamous Green Monster and Citgo sign. After 43 years, "The Cask" still holds the heart of Boston. Its walls are filled with black and white photographs of old time baseball greats such as Bobby Doerr (#1), Joe Cronin (#4), Carl Yastrzemski (#8), Ted Williams (#9), Carlton Fisk (#27) and many others.
In September 2012, the Cask 'n Flagon expanded to the South Shore, opening its second location in Marshfield, Mass. For more information, please visit www.casknflagon.com.
---