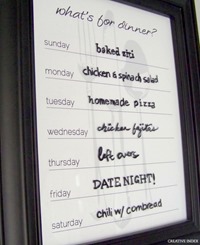 Time to tackle a daily headache around here.  Dinner.  It's a problem mainly because I head to the grocery store with no clear plan in mind for the week ahead.  We fill the cart with fruits, veggies, snacks, and whatever meat is on sale at the time, but when 4:00 rolls around each afternoon, I'm stuck scouring the cabinets for ingredients that I can throw together to create a real meal, or worse, throwing three kids into the car at 5:00 to pick up the one ingredient we don't have in stock.
I can do better than this.  The new plan for 2014?  Taking a half hour each week to scan the grocery store flyer and plan out 4-5 decent meals based on sports practice, meetings, etc.
There are lots of meal planning notepads you can buy for this very purpose, but I like the flexibility of printing off my own sheets from the many, many sources online.  There are lots of ways to use them!   Simply print and then…
Put sheet in a frame and use white board markers to write and rewrite your weekly menu
Put it in a see through sleeve and attach to fridge with magnets (or use a clear magnetic fridge frame)
Put it on a pretty clipboard (I made this custom DIY clipboard in about 10 minutes)
Laminate the worksheet and use a dry erase marker
Make multiple copies of your planning sheet, add rubber cement to the top to create your own notepad (click here for an easy tutorial)
Tape or tack it up wherever you like!
Here are 15 free, fabulous meal planning printables from around the web.  There are so many cute choices!  (To download, click on links to visit individual sites).
1)  Weekly Meal Planner from Green Child Magazine
Use this simple but pretty planner to get your week organized.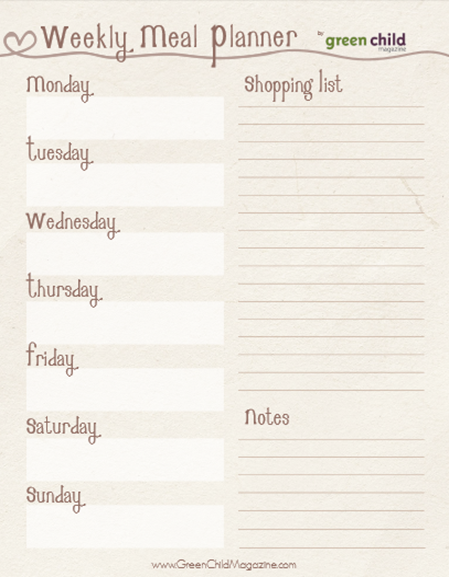 2) Weekly Meal Planner from Heartmade
Plan out three meals a day with this adorable planner.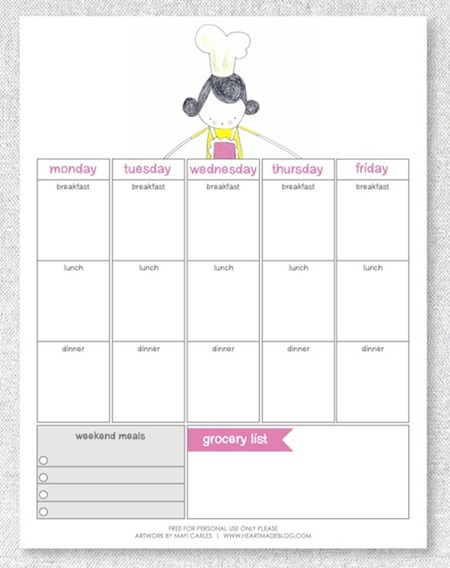 3)  Printable Menu Plan + Shopping List from Craft Sew Create
This worksheet prints on one page and folds in half so you can easily take your meal plan and shopping list to the store with you.  Available in blue and green.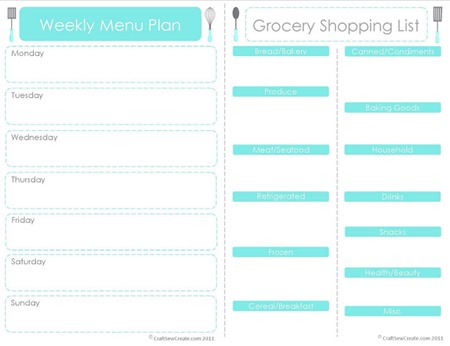 4)  What's for Dinner menu from Delighted Momma
Another side by side worksheet, cute design!
5)  This Week's Menu from Smitten Blog Designs
Post your weekly menu for the family with these pretty sheets.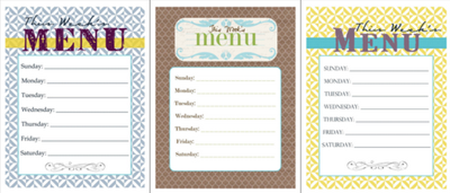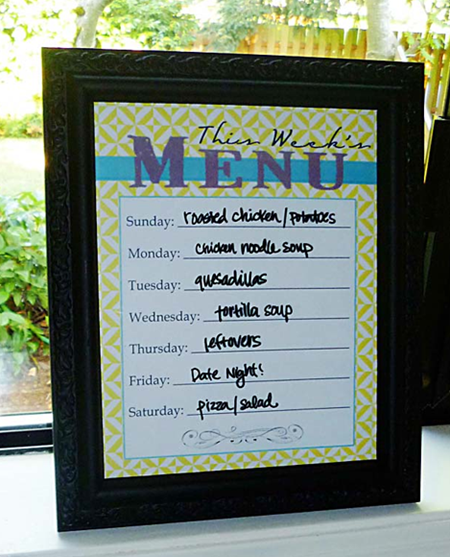 6) Menu Printable from Lovely Little Snippets
Print these fun menus, trip and slip into magnetic fridge frames so they'll always be accessible.  Visit Lovely Little Snippets for a quick tutorial.
7) Weekly Dinner Planner from Hello Cuteness!
These worksheets are just too cute.  We love the colors!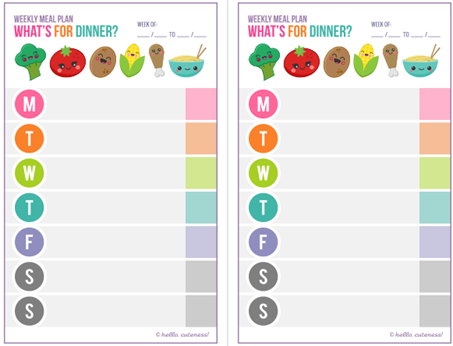 8) Dinner Meal Planner from Party Blog
List your main courses and sides for each day of the week with this planner.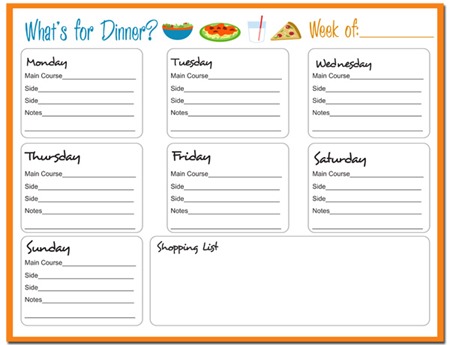 9)  Weekly Menu from The Momma Bear Diaries
A simple list to post on the fridge.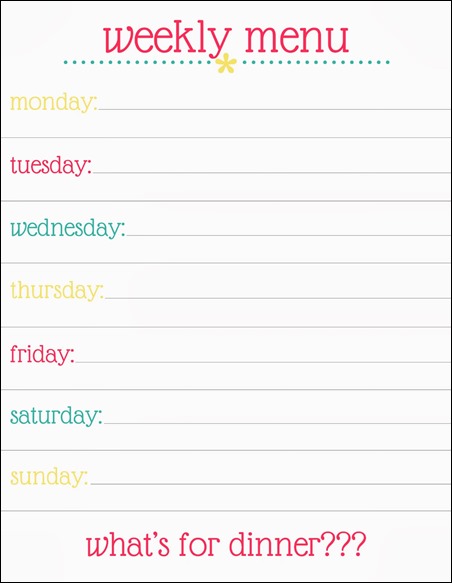 10)  Weekly Menu Planner from Organized Home
Stay organized with this simple and pretty worksheet.  Available with and without the side list.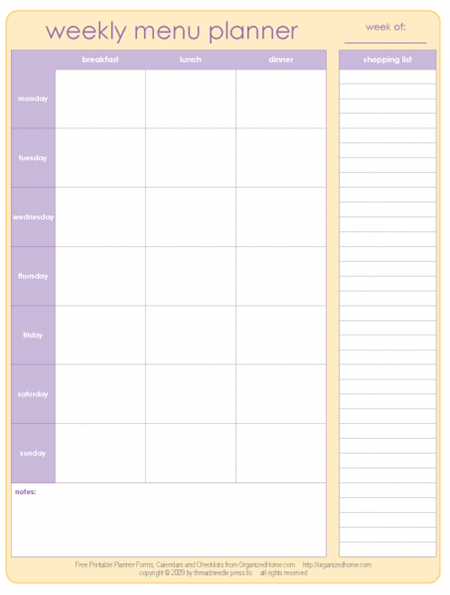 11) This Week's Meals from A Thrifty Mrs.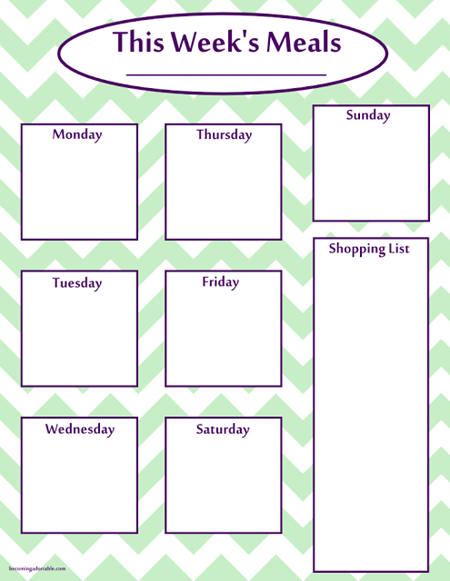 12) The Meal Plan from Life on Paper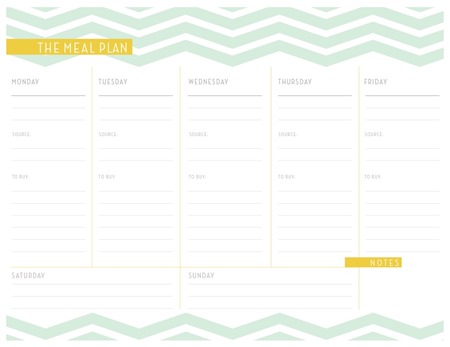 13) Meal Planning Printable from Interior Fun
This planner gives you lots of space per day, use it to plan a main course and sides, or for breakfast, lunch, dinner and snacks.
14) Menu Printables from Because We're Cheap
Choose from two layouts with this cute design.
15) Cookbook Markers from Craft & Creativity
Thumb through your cookbooks and bookmark recipes as you go with printable cookbook markers.  Genius!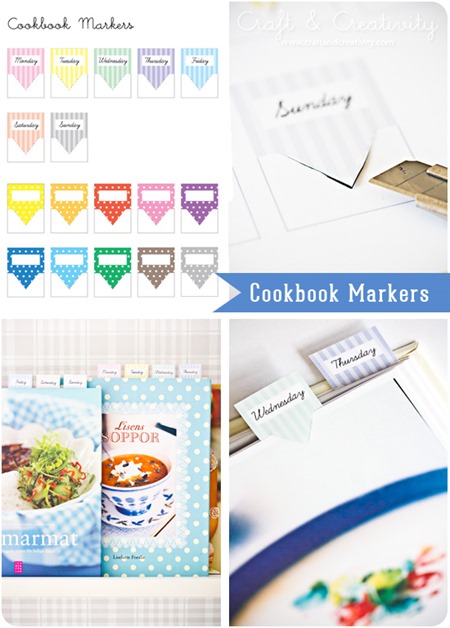 Looking for even more creative ways to plan and display your meals for the week?  Hop over to our Meal Planning Pinterest Board!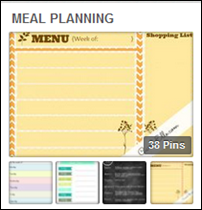 Check out part I of our Get Organized series, Printers, Planners & Apps, where we rounded up some fabulous tools to get your busy home and life in order!