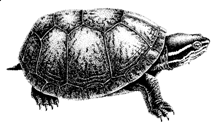 Calling all families, photographers, birders, friends, and neighbors! Whether you love Daniel Webster Wildlife Sanctuary, or have never visited this South Shore gem, Mass Audubon needs YOU to join their 28th annual Walk for Wildlife on Saturday, May 18! All proceeds support preservation of this important site for the enjoyment of both people and wildlife. 
The Walk is suitable for all ages and abilities, including jogging strollers. Loops of varying lengths will be mapped out, and fruit and water will be provided at checkpoints. Make it a workout, or take time to watch the birds and turtles from the observation blind, or view osprey through a spotting scope on Fox Hill. Special activities will help you locate, identify, and learn about the sanctuary's inhabitants, and the day will conclude with snacks and a hayride.
Join as an individual for $20, or form a team for $45. Registration and sponsorship forms are available at www.massaudubon.org/southshore or by calling 781-837-9400. Make an even bigger impact – and win cool prizes – by asking friends to sponsor your effort. In addition to protecting more than 2,000 acres of nearby wildlife habitat, Mass Audubon's South Shore staff works with over 2,800 students in local classrooms every year. Please consider helping us continue this important work, while enjoying a lovely walk on a spring day.