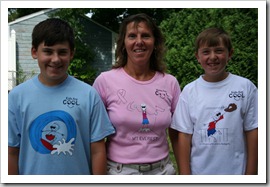 We are excited to introduce the first article in our MOMpreneur series, focusing on local entrepreneur moms who are successfully balancing the roles of mother and business owner.  Today we are highlighting Janice Timmins, local mom and founder of Kids Are Cool, the t-shirt business she runs with her son selling fun t-shirts and accessories proclaiming "Kids Are Cool", "Moms Are Cool", and "Dads Are Cool"! 
When and how did you come up with the idea for Kids Are Cool?
One day I was talking to my son about what he wanted to be when he grew up and I mentioned how wealthy people have become just by selling tee shirts.  I told him all you need is a nice design and a catchy phrase and your tee shirt business can become very popular.  So I said here is a catchy phrase, "Kids Are So Cool."  And my son said "Kids Are Cool" sounds better.   I then responded with"How about Moms are Cool  and Dads Are Cool?"   As soon as we got home, he ran into the house, pulled out a pad of paper and a pen and drew the logos.  Hence, our business began.   We've since designed tee shirts with the logo "Dogs Are Cool" and "Cats Are Cool."  I've had a lot of requests for "Nurses Are Cool" and "Aunts Are Cool."  That's what I love about our business, there's no stopping who is COOL!!!
What is the hardest thing about running your own business?
The hardest thing about starting my new business is I already have an existing business, so I'm trying to get Kids Are Cool off the ground while working seven days a week at my other job.  The other difficult part of starting a tee shirt business is trying to find quality shirts at an inexpensive price.  My next step is selling to retail stores.  I have to be able to sell to them and make a profit and have them turn around and sell and make a profit.  Very difficult.  have literally spent hours upon hours surfing the Internet for the best prices.  I've recently started looking at suppliers in China and Peru for pima cotton tees.  I want to only buy high-quality products.  I think a trip to one of those countries might be on the horizon.
What do you like most about being a business owner? What I like most about being  a business owner is not having a 9-5 desk job. I make my own decisions and answer to no one.
Do you have any advice for other moms (and dads) thinking of starting their own business?
My advice for starting your own business is GO FOR IT!!   You have to always think positive.  I read a book by Norman Vincent Peale.  In it he said, "Have great dreams and dare to live them.  Have great hopes and dare to go all out for them.  Have tremendous expectations and believe in them."
What is the best business advice you've received?
The best business advice I received was from my brother-in-law.  He told me to call certain companies and set up a wholesale account for myself.  I didn't know I could do that.  It cut out the middleman and lowered my costs.  Also, I was telling him how difficult I found it  trying to start my tee shirt business.  He sold a successful business a few years ago in which part of his business was selling tee shirts.  He said, "If it were easy, then everyone would be doing it."  I also enjoy watching "How I Made My Millions" on CNBC.  That has to be my number one inspiration.   Ordinary people with not only a great idea but a lot of hard work and determination have made their dreams come true.  That's what helps keep me going a lot.
Do you have any new products coming up?
The new product we have is cinch bags.  All the kids use them nowadays.  They're not as bulky as regular backpacks.  My kids love them.  We will also be coming out with a line of silk woven ties for Dads with our logo on them.  Look for those in the fall.  Also, on the horizon will be pet accessories, food dishes, water dishes, leashes with our logo.  Of course, anyone can email us with their COOL ideas.
What have you learned from your kids that you can apply to your business?
I have to say I have learned a lot from my son who is 13. He is actually Vice President of the company.  He drew the logos for all our shirts.    My son approves all the designs on the kids' shirts.  I figure, who knows better than a kid?  A great example is my son wanted a surfer on one of the shirts, so our artist drew up a sketch.   My son kept making changes until he was satisfied with the design.  To be honest, I wasn't that crazy about the surfer boy.    Wouldn't you know, it is our most popular shirt!!!!  I always ask his opinion about any decisions that need to be made.
For more information on Kids Are Cool, including merchandise (perfect for back to school), check out the website at www.kidsarecoolstuff.com.