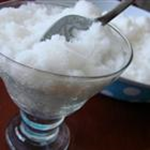 Snow is good for a lot of things…  sledding, snowball fights, snow angels, building forts…  but have you tried Snow Ice Cream?  It's simple to make, and the kids will love it!  There are a few different versions of the recipe out there on the web, the one we used is from Allrecipes.com.
Ingredients:
1 gallon of snow
1 cup white sugar
1 tablespoon vanilla extract
2 cups of milk
Directions:
When it starts to snow, place a large, clean bowl outside to collect the flakes. When full, stir in sugar and vanilla to taste, then stir in just enough milk for the desired consistency. Serve at once.
See a video demonstration on making Snow Ice Cream here!