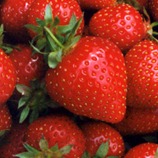 I've got a long list of things I want to do with the kids this summer, and next in line is strawberry picking!  Strawberry season is here Mamas, and it won't last long.  Here are a few farms that we've picked at in past years and really enjoyed.  If you've got another local favorite (or some feedback to share about these farms), please comment and chime in!    
Belkin Lookout Farm,  in South Natick.  Open every weekend from 10am to 5pm.  Strawberries available mid-June to early July.  
C.N. Smith Farm, 325 South Street, East Bridgewater.  Open 7 days a week 9am to 4pm.  Strawberry picking open in June.  
Ward's Berry Farm, 614 South Main Street, Sharon.  April through December, Ward's is open seven days a week from 9am to 6pm.  Pick your own Strawberries are in season approximately June 15 to July 4.

What will you do with all of your fresh picked strawberries?  A house favorite for us is strawberry shortcake.  Whip up this yummy strawberry sauce, perfect for topping waffles, ice cream or cheescake (skip the blender if you like yours chunky).  Or, make chocolate dipped strawberries for your next get together! 
For more information on local pick-your-own farms, visit www.pickyourown.org.