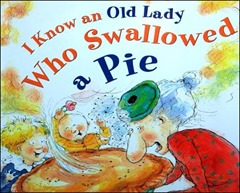 Head to Norris Reserve this week for a fun, free family activity, StoryWalk, featuring "I Know an Old Lady Who Swallowed a Pie" by Judy Schachner .  Laminated pages from the book will be placed along the trail for children to find and read as you walk along.  What a great way to combine reading with physical activity!  The story will be posted at the Norris from Thanksgiving Day, Nov 27th, through Saturday, December 7th. 
The Teen Tuesday Volunteer group from the Weir River Farm, the James Library and Art Center and The Trustees of Reservations collaborated to create this special StoryWalkfor children and families to enjoy during Thanksgiving. The Trustees worked with the James Library, to select the featured story, and the Teen Tuesday group separated the pages, laminated them, and then selected the trail where the story will be posted.
StoryWalk was the original idea of Anne Ferguson of Montpelier, Vermont. They were created to inspire parents, teachers, and caregivers to take young children on a short stroll that will be fun for all.
The James Library (at 24 West St.), just up the hill from the Norris Reservation, is free and open to the public Tuesday-Friday 1-5 and Saturday 10-1 p.m. The library offers concerts, music lessons, an art gallery, and many events.  For a full event schedule visit www.jameslibrary.org or call 781-659-7100.