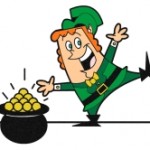 Each March, my son's preschool has a fantastic St. Patrick's Day tradition:  they hunt for leprechauns.  It's an adorable, imaginative and fun activity that all the kids get seriously into.  They build traps.  They hunt for clues.  But no matter how good the trap, or how elaborate the plan, they never seem to catch that elusive Leprechaun!  Sometimes they get a little piece of him, one year they found his hat, another time his boot, but no little man dressed in green, and no pot of gold.  He's a good sport about the whole thing though, always leaving the kids some candy and a note saying "Sorry, better luck next time!".
Even though Matty is in kindergarten now, he loves the Leprechaun hunting game so much that this year we're building our own trap at home!  I won't embarrass myself by posting a picture, it was designed by a 6-year-old and built with help from his 4-year-old brother.  (Mommy stepped in for the serious cutting and crafting).  It's covered with rainbows and gold coins, and involves a ladder and a trap door.  We're hopeful that this is our year, that this time we'll finally catch the tricky little fellow!
If you want to get in on the fun and build your own crafty Leprechaun trap, check out some of these clever traps, there's some real imagination at work here!
I'm sure on St. Patrick's Day the Leprechaun will get into a little mischief while visiting our house.  He'll probably turn our milk green in our cups like last year, I'm sure he'll track green footprints through the house, and maybe he'll leave some little green sparkles around.  (He certainly won't be turning the toilet water green, Daddy has been pretty clear he doesn't approve!)
Whether we catch the little guy or not, it'll be fun seeing what happens!
St. Patrick's Day Coloring Pages: